Sir Grayson Perry has said he thinks what England is defined by needs to be "reframed" to reflect the diversity of the population nowadays.
In his new Channel 4 series, titled Grayson Perry's Full English, the artist travels around the country meeting different communities to uncover what Englishness means today.
Appearing on ITV's This Morning on Thursday, he said: "I think Britishness now is something that people are very willing to be proud about. But to be proud about being English, it has a bit of an edge.
"Quite a large portion of the population identifies primarily as English. (But) I think, particularly in metropolitan areas, it's slightly frowned on because of the associations its had unfortunately over the last few decades around racism and nationalism."
Within the series, Sir Grayson meets a spectrum of people including a Muslim cafe owner who has experienced racism, a group of Druids and a host of football fans.
He said that the diversity of the groups was his main "takeaway" from the whole series.
"I started off like everyone else with the cliches of being English. Cricket on the village green, World War Two and the World Cup," he said.
"All those things, they seem redundant now because we're a very diverse country, not just culturally, but generationally, economically, digitally.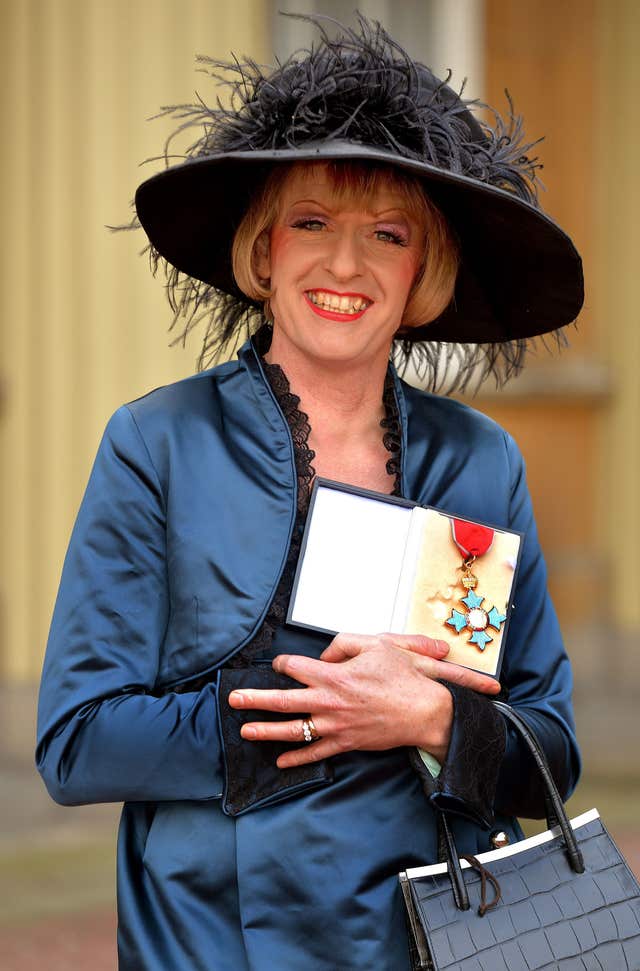 He added that he feels the country's evolution to be more diverse is "so much better than a cliche".
Throughout his journey during the series, he also collected different items from each of his interviewees which symbolise their view of England.
Sir Grayson now plans to take these items and display them in an exhibition in Edinburgh alongside his own work.
The 62-year-old artist, writer and broadcaster, who is known for his tapestries, ceramic works and cross-dressing, was made a Knight Bachelor for services to the arts in the New Year Honours list.
Asked how he felt about the honour, he said: "It takes you back because you think, 'Oh, I've come a long way. I must have done something right on the way'.
"And then you think, 'What fun. I wonder how I can get mileage out of this'. I've already made a few artworks that include it as an idea."
Sir Grayson, who was dressed in a pink jumper and hot pink dungarees during his appearance on the ITV morning show, added: "It's also surprising, particularly with how I dress up quite often, it's quite fun to be introduced as Sir Grayson Perry."
In 2014, he became a CBE after an investiture by the then Prince of Wales, now the King, and wore what he called his "Italian mother of the bride" outfit, a midnight blue dress with a wide-brimmed black hat, for the occasion where he was recognised for services to contemporary art.
In his 2016 Channel 4 programme Grayson Perry: All Man, the dress-wearing artist put himself in three ultra-male worlds to see what their masculinity explained about the changing lives and expectations of men in modern Britain.