Sir Ian McKellen says having trained intimacy co-ordinators on set can affect the "purity" of theatre productions.
The veteran of stage and screen said that in the earlier stages of his career, matters requiring such co-ordinators would have "taken care of themselves".
In an interview with Poet Laureate Simon Armitage, Sir Ian, 83, discussed the theatre industry's many changes, some of which were "not always for the better".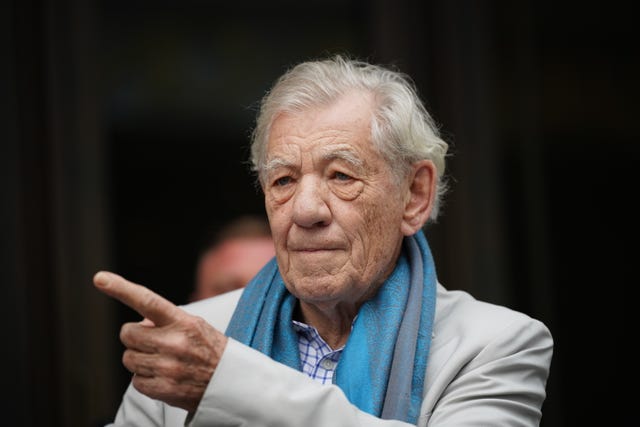 "This isn't yet mandatory, but I can imagine there are situations when you have to be careful and people find it difficult to be intimate, and therefore a co-ordinator is just the thing," he said on BBC Radio 4's The Poet Laureate Has Gone to His Shed programme and podcast.
"But why can't it be the director who does that? Why has it got to be somebody who's been trained in how to do it?"
He continued: "This has been a huge change and it's a little bit of beef for me, because with all these names of people doing all these jobs which would previously seem to have taken care of themselves, you won't see any actors other than those you see in the play that night because they're not permanently employed."
It follows comments by Sir Ian's Lord Of The Rings co-star Sean Bean, who said that intimacy professionals could "spoil the spontaneity" of sex scenes, were crticised by female members of the industry.
Actresses including Rachel Zegler spoke out following Bean's remarks in August, with Dame Emma Thompson hailing the role as "fantastically important".
Gillian Anderson and Bridgerton star Rege-Jean Page have also previously praised intimacy co-ordinators for their work in on-screen productions.
Page, who shot to fame as Simon Basset, Duke of Hastings, in the period drama – also on Netflix – said the show's intimacy co-ordinator helped take the "risk" out of the sex scenes.
Emilia Clarke and Gemma Whelan, stars of hit HBO show Game Of Thrones, have also spoken out previously about the need for intimacy professionals on set.