The official keys of the Eurovision Song Contest have been handed from the previous host city Turin to Liverpool in a grand ceremony which celebrated Ukraine.
Mayor of Turin Stefano Lo Russo and the mayor of Liverpool Joanne Anderson sealed the handover, known as the Insignia, with a handshake during the event held at St George's Hall in Liverpool on Tuesday evening.
The international music show will take place at the 11,000-capacity Liverpool Arena in May, culminating in the grand final on May 13, after the city was chosen to host the competition on behalf of 2022 winners Ukraine due to the Russian invasion.
During the ceremony, which was broadcast on BBC Two, Mr Lo Russo said to Ms Anderson: "A little bit of advice – enjoy the event, include everybody, engage the whole city, be proud for such an incredible international stage for you, for Ukraine and for peace."
She thanked him for his kind words, adding: "For me, it started on Sunday when we met and you talked about all the wonderful impact that Eurovision has had on your city.
"I'm really proud to be able to host Eurovision for Liverpool but especially proud to do it on behalf of Ukraine."
Rylan Clark and AJ Odudu hosted the presentation and also revealed which countries would compete in which semi-final for the song contest.
A total of 37 countries are set to take part in Eurovision this year, with Ukraine automatically qualifying as 2022's winners as well as the so-called "big five" UK, France, Germany, Italy and Spain – who each get a free pass because of their financial contributions to the event.
It was announced that the 15 countries who will be performing in the first semi-final on May 9 include Ireland, Serbia, Latvia, Norway, Portugal, Croatia, Malta, Sweden, Moldova, Switzerland, Israel, the Netherlands, Finland, Azerbaijan and the Czech Republic.
Meanwhile, semi-final two on May 11 will see Armenia, Cyprus, Romania, Denmark, Belgium, Iceland, Greece, Estonia, Albania, Australia, Austria, Lithuania, San Marino, Slovenia, Georgia and Poland go head to head.
Ukrainian refugees who have settled in Liverpool, a volunteer from the Ukrainian community and young people from a local school also assisted the presenters in unveiling which semi-finals the big five and Ukraine will be voting in.
One of the volunteers, Ukrainian refugee Anastasia, said her country winning the competition last year was "unforgettable", adding: "I'm really happy for Ukraine and thanks for all the people for supporting us in Great Britain."
The ceremony hall in Liverpool was also decorated with the newly unveiled branding and slogan for 2023 Eurovision.
Earlier on Tuesday, it was revealed the slogan would be "United By Music" while the artwork depicts hearts beating together in the colours of the Ukrainian and UK flags.
The special handover event opened with welcome speeches to the audience by Mr Lo Russo, Ms Anderson and Culture Secretary Michelle Donelan.
Speaking ahead of the ceremony, Ms Donelan said Eurovision was a "big coup" for Liverpool and it was "easy to understand" why the city had been chosen to host.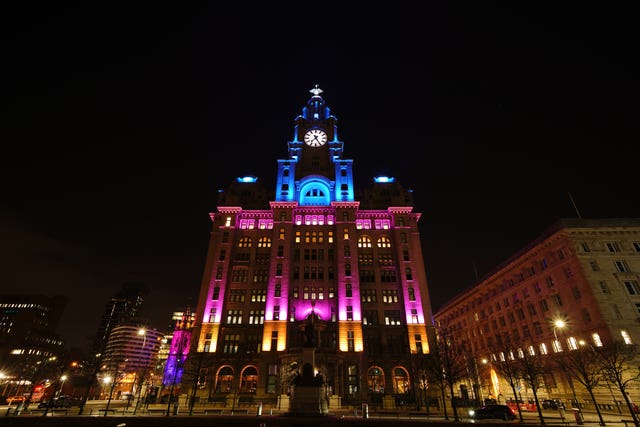 "We've got to remember how much these events generate. If we look back at Stockholm, for instance, that generated £27 million to £28 million into the city, so this is going to be a real boost to the local economy for tourism, etc."
In a video message, the Mayor of Kyiv, Vitali Klitschko, also said: "I wish that Eurovision in Liverpool, the legendary city of music, will be remembered as a great musical and cultural event. We'll be watching and cheering."
He added: "I believe that the next Eurovision will be held in Ukraine."
Famous Ukrainian faces also expressed the importance of Liverpool hosting on behalf of the war-torn country in a video montage.
Among those was Eurovision commentator Timur Miroshnychenko who said: "Eurovision is love, music and diversity."
Meanwhile, musician Julia Sanina added that the combination of the cultures of Liverpool and Ukraine coming together "is going to be something unbelievable".
In a number of other video montages, BBC Radio DJ Scott Mills reflected on the significance of Eurovision within the music world and Liverpudlians spoke of their excitement to welcome the song contest to their city.