Actress Eva Green has said she "fell deeply in love" with a shuttered film project at the centre of her High Court battle with a production company, and that abandoning it would have been like abandoning her "baby".
The Casino Royale star, 42, was due to play the lead role in A Patriot, but the production collapsed in October 2019.
She is suing production company White Lantern Film, claiming she is entitled to her one million dollar (£810,000) fee for the abandoned project despite its cancellation.
In turn, White Lantern is bringing a counterclaim against the French actress, alleging that she undermined the independent film's production, made "excessive creative and financial demands" and had expectations that were "incompatible" with the film's low budget.
In her written evidence to the court, she said she "fell in love" with the film, in which she was cast as soldier Kate Jones, after reading writer and director Dan Pringle's "brave and daring" script.
She said in her witness statement: "I believed and still do that the film had the capacity to really wake people up and help them to see that the devastation of our world would eventually trigger resource wars and massive migration."
Ms Green added: "As I have said repeatedly, I fell deeply in love with this project – not only the role, but also the message of the film.
"I couldn't imagine abandoning the film, as it would have been like abandoning my baby. It still feels that way."
Asked about the film project, Ms Green said: "It was one of the best scripts I have ever read. As an actor it was very exciting as a role of a soldier… was a role I have never played before and it is about climate change and it's very dear to my heart and important."
"I don't care about the money. I live to make good films, it's my religion," she added.
Max Mallin KC, for White Lantern, previously claimed that Ms Green had an "animosity" towards a vision for the film held by one of the film's executive producers, Jake Seal.
The barrister said that in WhatsApp exchanges with her agent and the film's director, Ms Green claimed Mr Seal was planning to make a "cheap B movie", describing him as "the devil" and "evil".
Mr Mallin asked Ms Green if she remembered sending a different text message suggesting that the film under Mr Seal would be a "B-shitty-movie".
After the actress said she remembered the message, the barrister asked: "If Mr Pringle had come to you and said 'Ms Green would you want to make this B-shitty-movie', would you have agreed?"
Ms Green replied: "No, I would not have agreed to that."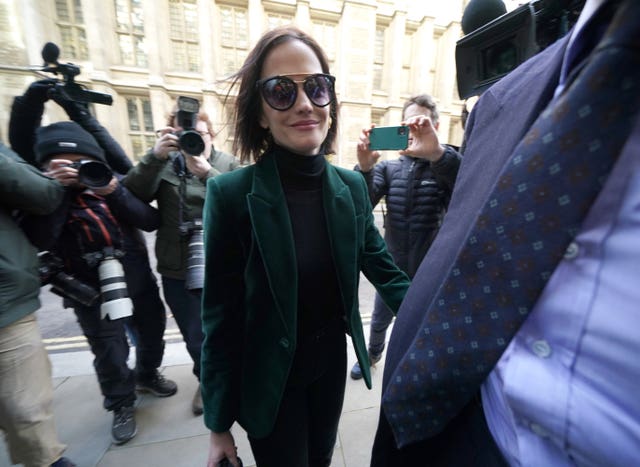 "Absolutely," Ms Green replied. "When an actor has appeared in a B-movie they are labelled as a B-actor, you never get offered quality work ever again", she added.
She also accepted that appearing in such a film "could kill my career".
Ms Green added: "I never wanted this to be a B-movie but I realised more towards the end that it was going to happen."
She continued: "I had several opportunities to walk away from this project but at the time I felt like I had an armour, the strong crew members around me.
"I thought we had these strange producers but a strong crew so we could still make something good quality but I was probably naive."
The actress said in her witness statement that she initially felt confident she and Mr Pringle were going to make a "spectacularly powerful film", but following delays to the project and its move from Ireland to filming in a studio outside London, she was "shocked and upset".
She said she felt she had been "deceived", adding: "I was very upset and angry that I had been misled about the financial state of the production and would have preferred that the production remain in Ireland, but I did not want to withdraw from the film and was prepared to consent to the move as required by the contract."
She said that she had hoped it would be possible for her to acquire the script rights in return for her forgoing her fee, so that the film could be made elsewhere with a different team, but that she knew she would have no choice but to go ahead with the film in the event this was not possible.
The actress denied the allegations that she was not prepared to go ahead with the project, saying: "In the 20 years that I have been making films, I have never broken a contract or even missed one day of shooting.
"Nor have I been late or done anything but give 100% heart, body and soul to every project I have ever been involved in.
"I reiterate that if WLFB had fulfilled its contractual obligations under my contract and had called on me to provide my services under my contract, I would have done so.
"I did not at any time by words or conduct indicate the contrary.
"I understand it is being alleged that from late July 2019 onwards, I engaged in a course of conduct that demonstrated I had no intention and/or desire to complete the production of the film in accordance with the terms of the Artist Agreement and/or that I otherwise sought to undermine or frustrate the production of the film. I deny these allegations, which are untrue."
"Why on earth would I sabotage a project that I loved and that I risked my reputation on? It makes no sense at all."
Ms Green also apologised for "inappropriate language" and "some horrible things" expressed by her in emails and texts in August and September 2019.
Earlier on Monday, Mr Pringle was asked about a text message where he said he, Ms Green and producer Adam Merrifield "would rather eat tumours" than work on the film under Mr Seal.
Mr Pringle said he regretted his words for speaking on behalf of the other two.
The film was also due to feature Game Of Thrones star Charles Dance and Twister star Helen Hunt, with Oscar winner Kathy Bates attached to the movie at one point.
Mr Pringle said that the proposed budget had been reduced from the 10 million dollars (£8 million) originally discussed with Ms Green to a lower estimate of 5.3 million euros (£4.6 million).
Ms Green is due to finish giving evidence on Tuesday and a ruling on the case is expected at a later date.